Cre8 Sounds - CR8 - PORTABLE MASSAGE GUN
The everyday stress of work from home manifests invariably in your muscles and joints. No wonder you feel like you're carrying an 80 kilo boulder on your back by the end of the day. Your stress knots tire you and make you feel fatigued quickly and to solve these issues, we present to you this effective and unique massager innovation - the CR8- PORTABLE MASSAGE GUN Device. This device is, true to its name, shaped like a pocket gun that can fit a number of attachments to curate a distressing and pleasurable experience for you after a long day at work. Additionally, this mini-massage gun features four different kinds of attachment heads and 4 adjustable speed levels to target all the muscle groups effectively. The aerometal body complemented by the 5 kg stall force makes this pocket-sized machine gun the perfect combination of ergonomically convenient and extremely effective for those suffering from chronic joint aches and muscle tension. The floating motor filters the vibration generated by the machine while the duplex bearing drive makes the machine run quietly. The 38 mm brushless motor has a high power and keeps running silently whenever you use it. In short, this pocket sized gun packs in itself a world of experiences and ways to release the stress of maintaining the perfect work-life balance. The choices are many and all yours. 100% Customer Satisfaction, Worry-free 6 Month Warranty, 24 hour customer support.
Introducing The CR8 - PORTABLE MASSAGE GUN
The first percussion massage device to deliver so much power so quietly, CR8 portable massage gun works deep to melt away tension and release soreness, empowering you to care for your body daily.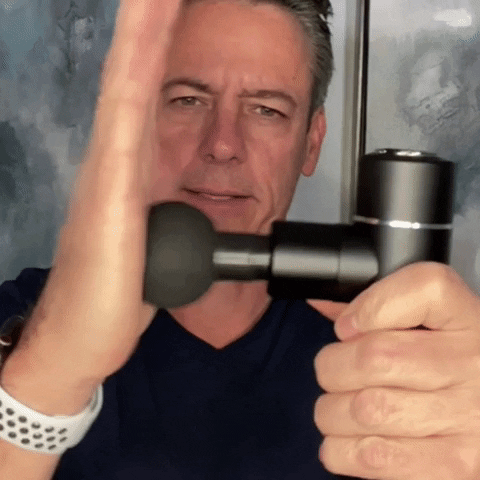 HIGH PERFORMANCE PORTABLE MASSAGE GUN
Samsung Battery and Type C interface to quick charge. It has a 1500mAh lithium battery and supports type-C fast charging. At 10 minutes per day you can use it consistently for 60 days.
NEW NOISE REDUCTION ULTRA-QUIET TECHNOLOGY:
It adopts floating motor, filtering the vibration generated when the machine is running. With duplex bearing drive makes the machine run more quietly. The 38mm high-power brushless motor. has strong power and keeping silent while running at the same time.
MOVE BETTER, RECOVER FASTER
Use the Impact's faster speeds before a workout to increase blood flow, hydrate muscle tissue and improve range of motion. Post-workout, use the slower speeds for deep tissue massage to help relieve soreness and stiffness and accelerate recovery time to keep the body moving. We promise 30 days 100% No-hassle Warranty REPLACEMENT GUARANTEE. Please feel free to contact us first if there's any questions.
COMPOSITION:
All metal body minimalism design made of aero metal. The weight is only 1.1 Lbs/500g and easy to handheld or carries on.
Included:
1x Massage Gun

4x Massage Heads

1x C Charger Cable

1x Carrying Case
STEREO SOUND
Pairing 2 earbuds wirelessly is now possible, giving you high quality surround sound wherever you go.
BLUETOOTH 5.0
With the latest and Fast connection technology of the CR8-P1 Sport Wireless Earbuds you are able to easily connect to any mobile device and experience quick pairing and stable connections. Don't let wires limit you.
BUIT-IN MIC
Built-In HD Mic for seamless calling also with the built-in mic, access to Siri/Google Assistant is just a touch away, giving you a genuine hands-free, wireless stereo experience.
OVER 100 HOURS OF LISTENING
The charging case is not only a PROTECTOR but also a POWER BANK for the headphones. Built in 2200 mAh larger capacity, it could recharge the earbuds 15-20 times, up to 72 working continuous hours. Also use it as phone power bank up to 2-3 time recharging when out of power. Small and sleek design make the charging case slides effortlessly into any pocket or bag.
100% IPX7 WATERPROOF
IPX7 Waterproof Nano-coating efficiently prevents water and sweat from penetrating and damaging its sensitive component. Working properly for workouts in the sun or songs in the rain. Perfect for running, jogging, hiking, yoga, exercises, gym, fitness, traveling and etc. Note: IPX7 Ratings means 100% Waterproof. It won't break under the water but bluetooth connection may vary due to many factors. The charging case is not waterproof.
UNIVERSAL SECURE FIT
Ergonomic Design allows a ultimate wearing comfort for active lifestyle. Designed to sit unnoticed in your ears, delivering incredible audio that feels like it comes from the air itself. 3 options of ear tips assure you to get your favorable sizes and ensure the earbuds stay comfortably firm in place, not easy to fall from ears without recognition.
FAQs
What's your shipping time?
For orders within the U.S., please allow up to 3-5 days for your order to process and 2-3 days for your order to arrive to you . For international orders, please CLICK HERE
What if I sweat so much? will my CR8 Earbuds be safe?
We get asked this all the time and the answer is.. YES! Our filter design and sweat resistant coating protects your earbuds from being damaged. They will be just fine!
CR8-BASS HEADPHONES
the WaterSafe nano-coating technology ensures that your earbud(s) are sweat-proof, water resistant, and IP64 specs level waterproof. However they should not be submerged in water and cannot be used in water sports.

CR8-P1, CR8-1 AND CR8-2
All our wireless earbuds are IPX7 waterproof rating. It is strictly forbidden to dip (wet, shower) in hot water, as condensation may defect it and they will stop working. However, you can use it in normal temperature water and dive up to 3.3ft of submersion within 30 minutes.
Note: IPX7 Ratings means 100% Waterproof. It wont break under the water but bluetooth connection may vary due to many factors. The Charging case is not waterproof.
How do I connect them to my device?
CR8 connects directly through your phones bluetooth. With our latest intelligent chipset, you can seamlessly connect to any mobile device from up to 33 feet away!
Does Siri or Google Assistant work with CR8?
Yes, Siri and other voice assistants work with CR8 earbud(s). If you have already connected your CR8 earbud(s) to your iPhone, you just need to activate Siri by long pressing on the 'Home' button or speaking voice commands to your phone, depending on your Siri response settings. You can also activate voice command input by double clicking on your paired CR8 earbud. When Siri is activated, you will then hear 2 'dings' or tones in the earbud indicating that the speaker and MIC functions have transferred via Bluetooth to the earbud(s).