DESCRIPTION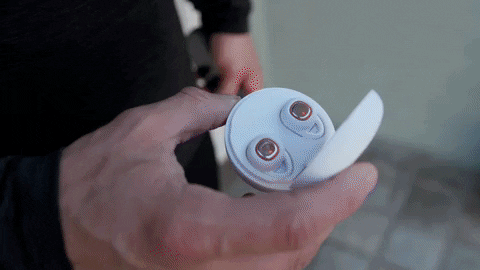 Cre8 Sounds - CR8-2 Sport Wireless Earbuds (LIMITED EDITION)
Like our first model, the CR8-2 Sport Wireless Earbuds have been designed to deliver superior sound, except this time, with even clearer audio and deeper bass! We added built-in ear hook, made it smaller and lighter to provide comfort and extra secure fit for even the most intense activities.
The CR8-2 Sport comes with a charging case. In the charging case there is a battery which can recharge the earbuds for up to 4 times. With a single charge, the earbuds play for up to 3 to 5 hours! Long enough to power you through the most grueling workouts. Charging the earbuds takes only 30 minutes!
IN THE BOX
2x CR8-2 Sport wireless earbuds
1x Intelligent Charging Box 
6x Silicone Earbud Tips
1x Charging Cable
TECH SPECS
 Charging and playing time
Music playing time earbuds: 3-5 hours
Charging time earbuds: 30 minuten
The charging case can recharge the earbuds 4 times on the go
Time to charge the charging case: 2 hours
Stand-by time: 30 hours
 Bluetooth
Version: 4.2
Maximum playing distance from device: 10 meters (without obstacles)
 Compatibility
Works with every Bluetooth device
Apple iPhones, iPad
Samsung Galaxy models
 Microphone
There is a microphone located in both earbuds
Answer or decline incoming calls
The incoming call is heard through one of the two earbuds
 Water Resistant
Rainproof
Sweatproof
IP64 Certified
 Dimensions
Earbuds: 18 x 18 x 22 mm
Charging case: 55 x 55 x 34 mm
Weight earbuds: 5 gram
Color: White with red ring
SHIPPING INFORMATION
For orders within the U.S., please allow up to 1-2 days for your order to process and 2-3 days for your order to arrive to you . For international orders, please CLICK HERE 
STEREO SOUND
Pairing 2 earbuds wirelessly is now possible, giving you high quality surround sound wherever you go.
BLUETOOTH 4.1
With the Bluetooth 4.1 technology of the CR8-2 Sport Wireless Earbuds you are able to easily connect to any Bluetooth enabled device and experience quick pairing and stable connections. Don't let wires limit you.
BUIT-IN MIC
Built-In HD Mic for seamless calling also with the built-in mic, access to Siri/Google Assistant is just a touch away, giving you a genuine hands-free, wireless stereo experience.
OVER 24 HOURS OF LISTENING
CR8-2 Sport delivers up to 5 hours of listening time on a single charge. With our charging case that comes with every pair of earbuds, you will get multiple charges. The pair will now get you over 24 hours of listening time.
WATER RESISTANT
WaterSafe nano coating technology makes your CR8-2 Sport wireless earbuds sweat-proof, water resistant and IPX5 compliant. It is perfect for sport, outdoor, and gym activities.
UNIVERSAL SECURE FIT
Due to its small shape and secure in-ear position, CR8-2 Sport earbuds are perfect for running, playing sports, hiking, working out, and any other activity. It's hands-free for maximum convenience. With filter design and sweat resistant coating, CR8-2 Sport true wireless earbuds are water-resistant and work through sweat. Workout to your favorite music with a Bluetooth headset that can handle almost everything.